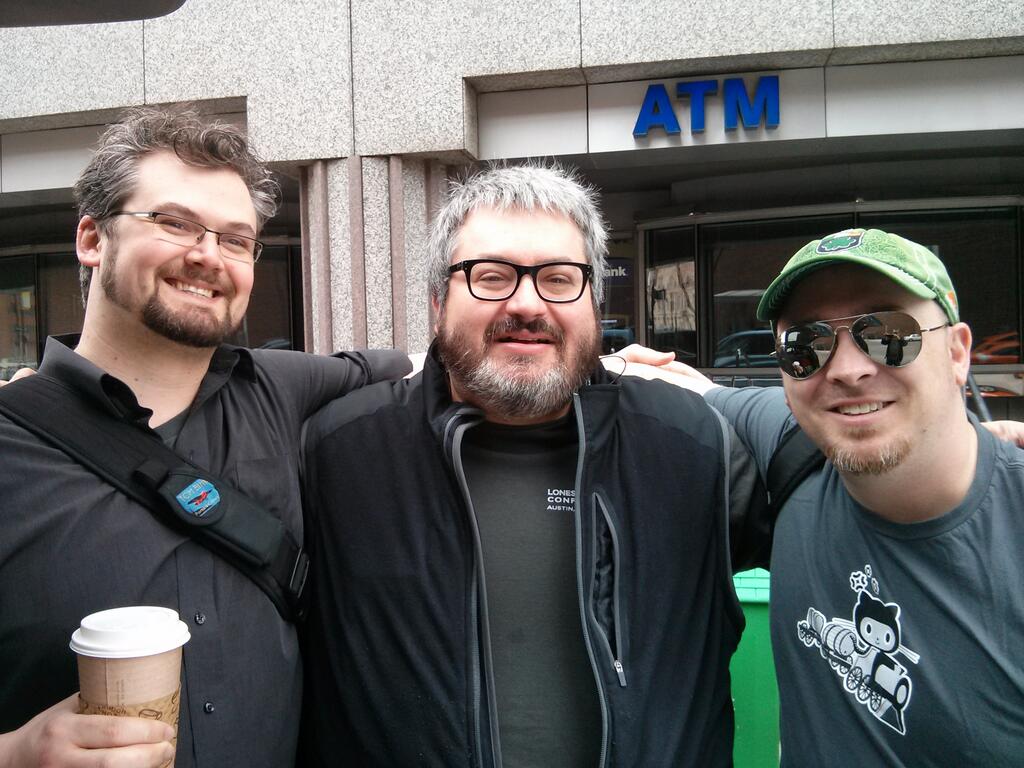 I attended RubyMidwest and want to share both my impressions and resulting growth. But let's backup, I had debated whether to drive or to fly out to Kansas City, MO for the conference. With only two weeks to spare, our primary long distance car began having some trouble. So, I looked into the costs of renting a car, the cost of wear and tear on our car, vs the possibility of flying. After tallying up the costs and figuring that I could work part of the day while flying, I booked a ticket for Kansas City. In the future I'll be more eager to travel by air, given that I can successfully work from anywhere with WiFi or 4G Coverage. To a lesser extent, for non-connected work, I'm also productive without the internet. If my first successful choice was flying, then my second successful choice was when I scheduled my arrival and departure. I flew in the day before the conference and out the day after. By doing this, I was rested going into the conference and able to socialize the night before it started. Flying out the day after the conference had the same effect of enabling more time with the folks that I wanted to see. Now mind you, I find these concepts fairly un-engaging but they're important for getting the most out of the conference experience. My next big win was staying at the official conference hotel. This means that at 4am when you can barely see straight from tiredness, your bedroom is only an elevator away. Staying at the main hotel also encourages social activity… which is why we're really at the conference. Yes, it's more expensive. Yes, it might be a tacky venue. Yes, it's not all magically hipster delicious. If money's an issue, post on Twitter that you're looking to split a room. I had the pleasure of sharing the room with Evan Light because he posted on Twitter about the hotel not having vacancies. Sharing a room's also a great way to make sure you're staying in the social mix of the conference rather than scuttling off to a quiet place.
Twitter is the lifeblood of Ruby Conferences.
Add a column in your Twitter client to track the hashtag designated by the conference. This means you can follow the flow and group activities. It's also a good place to share your enthusiasm for RubyMidwest and ensure that next year has an equally awesome crowd. If you're shy or want help being social, post something like, "Hey come say hi to me, I'm wearing a Yellow Gnu Linux T-Shirt". Incidentally, that's how I met Matthias who is writing this book about the Padrino Framework.
Never Eat Alone
Except for coffee when you've just rolled out of bed after 4 hours of sleep. Otherwise, don't eat alone. This is your magical chance to spend time with people as nerdy or nerdier than you. If you're stumped for conversation, ask how they started programming, what their favorite Gems are, what tools they use, if they're part of the 20% of programmers who Raided in World of Warcraft (then judge them according to whether they rolled Horde or Alliance).
Find a Small Group
I preferred the time spent in groups of 2-8 people. This size allows for meaningful conversation between the participants. It's also easier for those of us who are slightly hard of hearing. Each night of the conference had some conversational highlights. Friday night's highlights were centered around the balcony at the after-party. @kobier, @elight, @samullen explained to a fellow not from the conference what it was that programmers do. By the end of the conversation, the young man was very enthusiastic about learning to program. I volunteered to help him get started and we've been in email contact since the conference ended. This conversation was an impressive display of the welcoming attitude that can exist in the Ruby community. On the last night of the conference, after the energy had worn off, I had some meaningful and insightful conversations. I'm looking at y'all: @Bantik, @zmoazeni, @aspleenic, @ashedryden, @erniemiller, @kerrizor, @theOtherZach, … and more.
Initiate Conversations
I started many conversations at RubyMidwest simply by walking up to people and introducing myself. The odds are that this will lead into a flowing conversation. If it's stilted and awkward, get the conversation onto technical topics… that's the bread and butter of conferences. Also, people at regional Ruby Conferences are remarkably friendly.
Company Culture Shows Through Employee Behavior
I'm looking at you genial folks from @Harvest: Zach and Paul. Sending folks who positively represent your company to community conferences is a win-win situation. The devs get to stretch their knowledge and have fun. The company builds a reputation among Ruby's enthusiastic true believers. Why wouldn't companies want to recruit from this pool of people?
What Did I Really Learn?
That I'm attending MadisonRuby, SteelCityRuby and DCamp this year. I finally decided to transition from an anonymous icon on Twitter to a goofy pic of myself.  Doing this is a direct result of making #rubyfriends at the conference.  And when they see me on Twitter, I'd rather that they see my face delivering the pithy witticisms. I've submitted a conference talk proposal to two venues since returning from RubyMidwest.  I'm also excited about stepping up my programming game and getting more involved in the community. These are my people :).
Thanks
To Wes Garrison of Databasically, Sam Mullen, Ross, Cerner, and everyone who made this event possible.